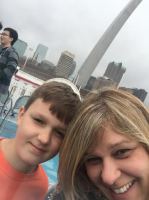 I know St Louis might not be what most people think of when they think "spring break" but for us….it was perfection! I gave Anneke the dates and she put together a great trip. She booked our travel, car, hotel and riverboat cruise! I didn't have to worry about a thing. As a bonus, our hotel was the host to the annual St. Patrick's Day Parade! We didn't have to leave our hotel room to enjoy it. I am a single, working mom. My son and I enjoy our adventures very much but I don't always have the time to plan it all out in advance. Putting everything into Anneke's capable hands made this a terrific, stress-free vacation. She was just a phone call away when I had a question about our riverboat cruise. Joyfully, she answered my question and we were back on our way! I won't hesitate to reach out again for her professional assistance.
Christine L. (Litchfield Park, AZ)
She took all the pressure off of me!